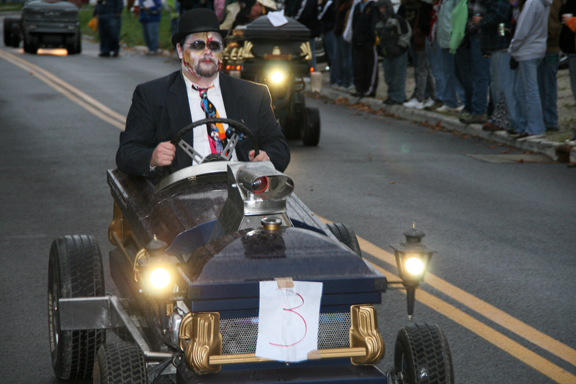 The Elmore Historical Society
PRESENTS the
11th ANNUAL TOMBSTONE DERBY
Saturday October 24, 2015
11am-6pm
For Vendor Information please call (419)377-0700
or email Rick Claar @ RCMDIV@aol.com
You may use the vendor form on the left
sidebar to mail in (even though it says 2011)
**Selling Elmore Ghost Walk Booklets with haunted stories of Elmore $2**
NEW ADDITION TO THE TOMBSTONE DERBY!!!

The Casket Races will now include Halloween Themed Vehicles! (Golf Carts, Dirt Bike, Lawnmower, Shopping Cart..etc) and the winner will win $100!
Also entry them in the decoration categories and the poker run :)

Plus----NO ENTRY FEE!!! Share this with your friends!

Haunted Hydro will be at the Tombstone Derby!!
Costumed Characters will be roaming around to give out special prizes!!
They will also have a hearse & Casket Racer!!
Spectral Travels will be in the Barn to demonstrate their paranormal investigation equipment!!
11th Annual Tombstone Derby
Saturday, October 24, 2015
Elmore Depot Grounds
353 Ottawa St., Elmore Ohio 43416
9-10:00 Pies for the Pie baking contest must be turned into the township hall at the fire station
(Please contact Renee Thomas @ 419-574-1559 for details)
11:00 Pie Baking contest winners announced
(Pies will be sold by the slice or alamode after the pie judging contest)
12:00-1:00 Registration for Adult Motorized Casket Race
(Prizes will be given for "Best of Show" and "Scariest Car" in the Kid's division. Cars must have stock battery power or they will be disqualified.)
1:00-1:15 Voting for "Best of Show" and "Scariest Car" in the Kid's Battery Operated Racer Division
1:00-2:15 Voting for "Best Decorated" and "Best Casket Decorated Bicycle" (Both Adult and Kid Divisions)
1:15 Kid's battery Operated Car Elimination Drag Race Registration
1:45 Kid's battery Operated Drag Race and Prize winners announced
1:00-5:00 Voting for "Best of Show" Motorized Casket Racer
2:00 Pet Halloween Costume Contest "Best of Show" and "Best Kid/Pet Entry")
2:30 Pet Costume Contest and Bicycle Winners Announced
3:00 "Halloween Parade of Fools" (Including motorized caskets, kid's racers, pets, kids, bicycles, tractors (Bring your noise makers!) (All kids participating in the parade will receive a bag of treats!!)
3:45 Body Toss Contest ($1 per team) & Cadaver Toss ($1 per contestant) All entry money paid back to winners
4:30 Tombstone Derby Casket Drag Races-single elimination heats and final
5:30 Tombstone Derby Casket Races Poker Run
12:00-6:00 "Goulish food" limited menu includes: Mac n Cheese, Hot Dogs, Hamburgers, Cheeseburgers, "Monster Mash" (fried potatoes, sausage, onions, peppers, cabbage), Beef Veggie Soup, Chicken Noodle Soup, Apple Crisp (with Ice Cream), & Pie
12:00-3:00 Kids Games (Outside Log Cabin)
12:00-5:00 Tarot Readings at the Depot
12:00-5:00 Haunted Historical-- Cabin- Kid Friendly!