Barn Rental
Available for your Event!
*Catering Services have been discontinued effective January 1, 2015*
The Barn was established in the Elmore community in 1997 and is located in Depot Park at 353 Ottawa St. It is used for many of the town events like the Grubs & Suds, the Portage River Festival,and the Tombstone Derby. The barn is a ground level building with no stairs, it has air conditioning, heat, chairs & tables to fit a capacity of 118, fully operational kitchen, and indoor bathrooms. Renters are responsible for their own decorations and clean up. Graduation season is the Barn's busiest time, so book early.
Prices:
Barn Rental : $200.00
Non Refundable Deposit: $50.00 (goes toward your fee)
Weddings-Graduations-Birthdays-Banquets
Anniversaries-Reunions-Meetings
(Includes use of KITCHEN, restrooms, tables & chairs)
Please Call for Reservations
Renee Thomas (419) 574-1559
Read Below for Barn Rental Agreement Form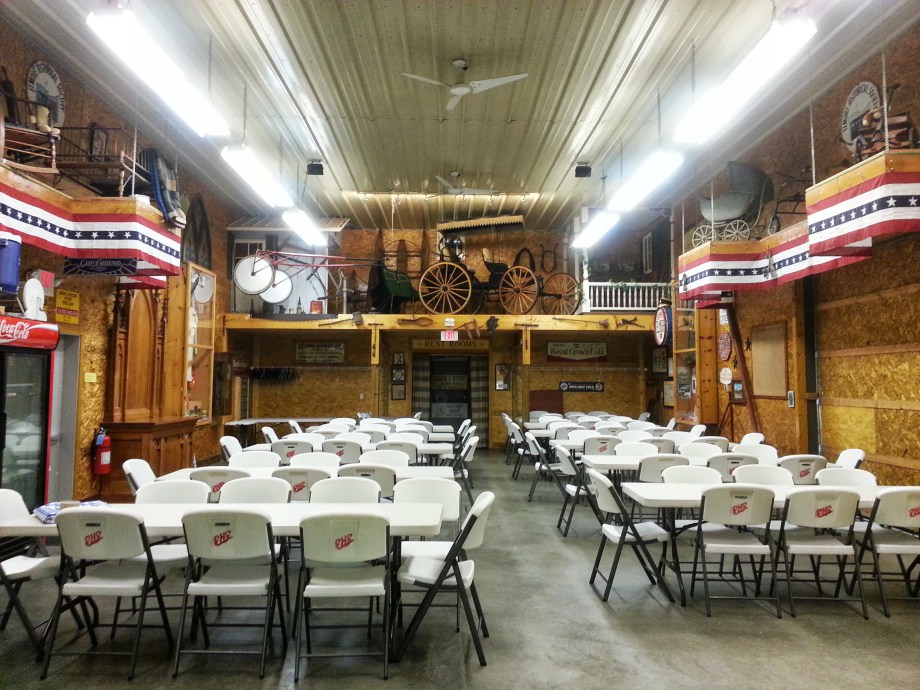 ELMORE HISTORICAL SOCIETY BARN RENTAL POLICY & AGREEMENT
POLICIES ON THE RENTAL OF HISTORICAL BARN FACILITY OF THE ELMORE HISTORICAL SOCIETY
Rental Procedures:
1. Use Agreement Form: All rental requests must be submitted the Elmore Historical Society on the Use Agreement Form.
2. Reservation: The Use Agreement Form must be completed, signed and returned with the non-refundable cancellation deposit of $50 to the Elmore Historical Society by mail or in person as soon as possible. The full rental payment of $200 will be due at least 10 days prior to the Event. If the Fee is not paid when due, the Elmore Historical Society shall have the right to terminate the Use Agreement and allow another applicant to use the Facility. In addition, the Elmore Historical Society shall have the right to keep the $50 Deposit as liquidated damages.
3. Confirmation: Either a written or oral confirmation or rejection of the Use Agreement will be sent to the Applicant.
4. Set up Requirements: Room set up requirements, including number of attendees, table & chair set up, and any other requests must be provided to the Elmore Historical Society no later than 10 days prior to the date of the Event. Requests for use of the Facility can only be approved if the room set up requirements can be accommodated. If Applicant requires a change after the initial set up requirements are sent and approved the Elmore Historical Society, an additional fee may be charged.
Barn Facility Capacity: 118
5. Non-transferable: The Use Agreement is non-transferable and is restricted to the stated hours and intended use of the Facility.
Fees
A one-time $50 non-refundable deposit will be charged. Barn Rental will be $200 per day and will include the use of:
Tables & Chairs Use of restrooms Air Conditioning/Heat
Use of the Kitchen One refrigerator/Freezer, sink, garbage cans, stove, oven, counter space, & utensils in marked drawers
**All contracted caterers using the kitchen must possess a current caterer's license and be approved by the Kitchen Manager. Caterers are expected to supply whatever they need to make their preparations other than a stove, oven, and refrigerator. The caterer must also provide all dishes and serving utensils. All paper products (i.e. napkins, table cloths, paper towels, plastic and foil wraps, etc.), must be provided by the Applicant or for the Applicant by the caterer.
Indemnification
Indemnification: Applicant hereby agrees to indemnify and hold the Elmore Historical Society harmless against all claims, damages or causes of action for damages and related expenses arising out of, or brought on account of, injury to any person or persons or property, or loss of life, resulting from Applicant's occupancy of, and use of, the Facility and its operations therein.
General Policies and Procedures:
1. Right of Refusal: The Elmore Historical Society shall have the right to refuse the use of the Facility by any Applicant, in its sole discretion.
2. Alcoholic Beverages: Alcohol may be served but not sold by Renter. It is against the law to dispense and sell liquor without a liquor license and only a licensed and fully insured liquor provider can dispense and sell alcoholic beverages for profit. It is illegal to serve liquor to anyone under the age of 21.
3. Equipment/ Furniture: Use of Facility equipment must be requested on the Use Agreement. Furniture and equipment owned by the Elmore Historical Society shall not be moved unless requested in advance. A member of the Kitchen Committee will set up the requested equipment owned by the Society at least one day prior to event. Applicant must have prior approval by the Kitchen Manager if any non-Society owned apparatus or equipment is moved into the Facility. Such apparatus or equipment must be removed promptly after the Event. *NOTE (for events outside of the facility, equipment may be rented for $5.00 per table, .50 per chair, and .50 per garbage bin)
4. Decorations: The Kitchen Manager will coordinate with the Applicant any access to the Facility for decorating prior to the Event. All decorations, supplies, and property of the Applicant must be removed promptly after the closing time of the Event. *Candles can be used if they are unlit
5. Clean Up: The Applicant is required to leave all areas in a reasonably clean and orderly condition at the end of the Event. They are also responsible for bagging all trash and wiping down tables with materials provided by the Elmore Historical Society. Elmore Historical Society Kitchen Committee members will sweep the floor, dispose of the bagged trash and move the tables and chairs as necessary. Guests are encouraged to use the appropriate waste containers.
6. Soliciting/ Advertising: Soliciting is not permitted at the Elmore Historical Society Barn or its grounds.
Facility Rules and Regulations:
1. No smoking
2. Event Hours: Rental events may not continue beyond 11 p.m. Renter will promptly perform clean up responsibilities as outlined in these policies. Renter and all of Renter's guests and property, including decorations, must be removed from the premises no later than 12 a.m., or two hours after Event end time, whichever is sooner.
3. Alcohol Consumption on Grounds: Outside of the specific rented facility, drinking on Society grounds, including the parking lot, before, during or after a rental event is not permitted. At no time may renter or any renter's guests consume alcoholic beverages in the parking lot. The Elmore Police Department will be called if such alcohol consumption should occur.
4. Care and Use of Premises: Renter shall not use premises for any illegal or immoral purposes and shall comply with all applicable state and local laws, ordinances or regulations. Renter shall take good care of the premises and maintain all the personal property, equipment, and furnishings in good condition during the rental term, and at expiration deliver the same good order, normal wear and tear exempted.
Persons in attendance must confine themselves to areas permitted for use.
Applicant may not sublet any space in the Facility.
The Elmore Historical Society shall have the right to terminate a Use Agreement if any Applicant misrepresents the purpose of an event.
Disorderly conduct is prohibited. All local and state ordinances and laws of the police and fire departments must be observed. Applicant and all guests should be respectful of the neighborhood community.
The Elmore Historical Society is not responsible for lost or stolen articles.
Initials: _______ / _______
User Agreement Form / Elmore Historical Society
Renter / Organization:
__________________________________________________________________________________
Address: _____________________________________________________________________________________
_____________________________________________________________________________________
City: _________________________________________ State: ________ Zip:_________­­­­____
Home #: ________-________-________ Cell #: _______-________-________
Email: ________________________________________________________________
Date of Event:
________________________________________________________
Start Time of Event: ________________________ End Time of Event: ___________________________
Note: Event must end no later than 11 p.m. Renter, renter's guests and renter's property must be removed from premises no later than 12:00 a.m.
Type of Activity:
____________________________________________________________________________________
Approximate Number Attending: _______________
Kitchen Requirements: ____________________________________________________________________________________
Name of Licensed caterer (if applicable):
_______________________________________________________________________________
Caterer Phone #: ________-________-_________
Set-Up Options:
________ # of Round Tables ________ # of Long Tables (6 ft.) ________# of Chairs
Planned Time to decorate: ________________________
*Please remember all property of the renter (including items leased by the renter outside of the Elmore Historical Society) must be removed from the site before 12 am or two hours after said Event, unless agreed upon in writing at time of signing Rental Agreement.
I have read and agree to abide by the Rental Policies of the Elmore Historical Society and follow all applicable state and local laws and ordinances during the rental term. (Please Print Name)

_______________________________________ ________________________________________
Renter Signature (named above)
_______________________________________ ________________________________________
Date______________________________
Please Make Checks Payable to:
Elmore Historical Society
Address:
Elmore Historical Society P.O. Box 154 Elmore, Ohio 43416