Mission Statement:
To preserve the history of Northwest Ohio and to increase awareness
of the importance of historical sites and buildings in our area.
Objectives:
1. To gather, preserve and/or restore the following structures and buildings of historical value; photo history, written history, video history and memorabilia.
2. To increase awareness by developing tour brochures and videos, placing markers at historic sites and buildings, providing displays and tours for the public at our site and giving public presentations.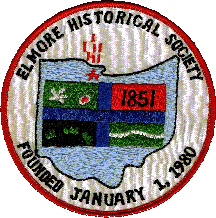 A BRIEF HISTORY OF OUR ORGANIZATION
The Elmore Historical Society was established on January 1, 1980 to preserve and promote the history of Elmore, Ohio and its people. Today a few charter members are still involved including Murlyn Schneider and Norma Chambers.. This non profit organization have strived to restore historic buildings, engage in educational programming for the public, and to institute a museum to show case memorabilia from Elmore's past.
We purchased the 1860's Elmore Depot in 1981 along with 2.5 acres of land. We re-pointed the chimneys, replaced the four-foot overhangs, put on a new roof, painted the exterior and replaced glass in broken windows. We have electrified the inside, replaced rotted wood and have painted the inside as well as the outside again in 2001. We had the floors sanded and finished. The loading dock on the north end was converted to a window, which looks like the rest of the windows on the building. Glass cases are displaying much memorabilia from Elmore's past whether it is pieces from Elmore or our past remembered. A model railroad club has been organized and they have train boards with model trains in the passenger waiting room area.
In 1983 we dismantled, relocated and rebuilt the 1840's log house. We added an elaborate flagstone fireplace and porch and have furnished it with artifacts from its era. This house is enjoyed by young and old. It takes people back to a simpler time. Matti Heckman, who taught third grade to many in the area, lived in the house. Children come to the log home to visit Santa every Christmas.
In 1996-97 we built a 110' x 30' museum/barn with a design in keeping with the Elmore Railroad Depot. This building holds our antique artifacts donated by the people from our area. The area also provides a 24' x 24' kitchen on one end with a like extension on the far end for restrooms. American Standard donated all the porcelain. The kitchen is used to prepare and serve food and the large room seats people at tables. Our big four functions make us money to improve the property and make our payments. This past year we insulated the walls and ceiling of the depot and placed steel on the ceiling of the barn/museum and insulated it with 14" of fiberglass. A grant of $10,000 was received from Ottawa, Sandusky, Seneca County Joint Solid Waste Management District made this project possible.
In September 2003 we purchased the former Elmore grain elevator property, which is adjacent to our property. This property had a Quonset building on it to store larger pieces of equipment given to us as well as a place to repair and maintain equipment. The additional parking for patrons to our functions has helped tremendously.
In 2006 we updated our kitchen in compliance to state and county codes. This also allows us to apply and receive a once a year health permit. A stainless steel hood over the cooking area with fire suppression kit and fire extinguisher system was installed at a cost of $20,000.

Early Elmore appearing streetlights have been placed along the former railroad right of way. This is now the Rails to Trails bike path that goes through our property connecting us East to Fremont and beyond. Signage has been placed on our buildings.
Our efforts are very educational for all of the area children as well as adults to remember how people lived and worked in early years. New members are always welcome!!
_________________________________________________________________________________